Simplify Your Search for a New Scheduling Solution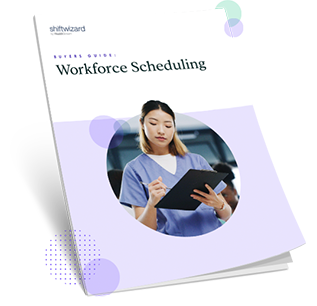 We've created a simple checklist to guide your decision-making process and help you find the right match for your organization.
At HealthStream, it's our goal to help you find the ideal solution for your staff. While finding a new scheduling solution might seem overwhelming, we see it as an opportunity for you to optimize your processes, increase productivity, and elevate the quality of care your team provides. The right scheduling system can also increase employee satisfaction, engagement, and retention. That's why we created a comprehensive checklist for you to utilize as you begin your search.

Scheduling is a vital part of the healthcare industry and has a major ripple effect on any organization, from retention and recruitment to workplace culture and patient care. Because of this, finding a new workforce scheduling solution for your leaders, managers, and staff can feel like a daunting task, but careful consideration and planning can streamline this process and help you find the right fit for your facility.

When finding a new scheduling solution for your organization, you need the right tools and resources to make an informed decision. Before you begin scheduling demos and taking vendor calls, it's critical you have a firm understanding of your facility and team's unique needs while also knowing which questions to ask and what additional info to request.

From examining and evaluating the current state of your scheduling practices to identifying the future goals of your organization, this checklist makes it simple and easy for you to outline your scheduling solution needs and know which questions to ask to find the right fit for your facility.
July 17, 2023